This piece first appeared in NACLA.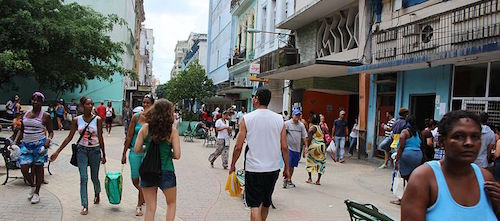 Calle San Rafael, Havana. August 2016. via Wikimedia Commons.

Olga, a former University teacher, remembered her faithful devotion to Fidel Castro when she was growing up in Santiago more than forty years ago. "Before the triumph of the Revolution I went to a Baptist private school. After I went to a state school, and I grew disenchanted with religion. This happened not only to me, it happened to my entire generation," she said. "The change was profound. Fidel replaced the God we had believed in. He was a very significant leader for everyone, but in particular for us of the younger generation. We threw ourselves into the struggle to make the revolution. Life was very difficult after the sugar harvest of 1970 failed. We suffered a lot, but we still had that belief, that determination, that we had to fight for the revolution. We thought of Fidel as our God the saviour, and we all closed ranks, and we struggled, and we tried not to see his errors, his flaws. I did not return to the church for many, many years."

I first interviewed Olga (not her real name) twelve years ago, when, alongside a team of Cuban and British researchers, I began recording life histories of Cuban men and women living on the island. Olga and I last met several months ago, in Miami, where she now lives. Our team has collected the life histories of 125 Cubans from different generations, social positions and political views, of diverse racial, gender, sexual and religious identities. Many talked with us multiple times, recounting how their lives and attitudes have changed over the years.
Fidel Castro, Cuba's leader of revolution, has died aged 90. We present an extract from Tariq Ali's introduction to The Declarations of Havana, Verso's collection of Castro's speeches.




On 26 July 1953 an angry young lawyer, Fidel Castro, led a small band of armed men in an attempt to seize the Moncada barracks in Santiago de Cuba, in Oriente province. Most of the guerrillas were killed. Castro was tried and defended himself with a masterly speech replete with classical references and quotations from Balzac and Rousseau, that ended with the words: 'Condemn me. It does not matter. History will absolve me.' It won him both notoriety and popularity.