There is a famous line in Lenin saying that "without revolutionary theory there can be no revolutionary movement." That is a very profound phrase. Theory serves for two things: to join together struggles that are apparently unrelated, and also as a compass in periods of crisis. It is what tells you whether in this precise moment you should be smashing up banks or standing in elections.
Feyzi Ismail's interview with Stathis Kouvelakis — a member of the Greek Popular Unity party and a supporter of La France Insoumise — about Emmanuel Macron's victory in the French presidential election and the prospects for the radical left was first published at 
Counterfire
.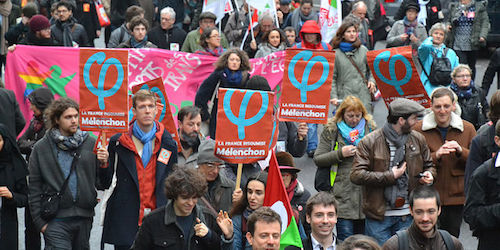 France Insoumise International Women's Day demonstration, March 2017. via Flickr.

What is your assessment of Macron's victory over Le Pen and how did we get to this?
We shouldn't underestimate the danger of Le Pen's result of 34.5%, even if she wasn't elected. This is a solid performance that makes her appear as a credible alternative for power, which means the slogan we have been hearing that says "Macron in 2017 equals Le Pen in 2022" has the potential to become true. This is one essential reason why against all odds the left should have been supporting a tactical vote for Macron for the second round. Abstention under these conditions was not an option.
This essay by Jacques Rancière was published in Libération in January 2011, and then heavily revised for its Spanish publication in the multi-author volume ¿Qué es el pueblo?. Translated from the Spanish version, with reference to the French original, by David Broder.



via Wikimedia Commons.

Not a day goes by without someone in Europe denouncing the risks of populism. But it is not easy to grasp what exactly this word means. In the Latin America of the 1930s and 1940s, it served to designate a certain mode of government, passing over parliamentary forms of representation in favour of a relationship whereby a people was directly embodied by its leader.