This piece first appeared in NACLA.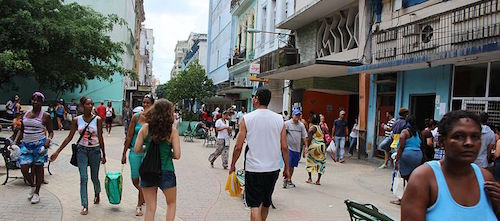 Calle San Rafael, Havana. August 2016. via Wikimedia Commons.

Olga, a former University teacher, remembered her faithful devotion to Fidel Castro when she was growing up in Santiago more than forty years ago. "Before the triumph of the Revolution I went to a Baptist private school. After I went to a state school, and I grew disenchanted with religion. This happened not only to me, it happened to my entire generation," she said. "The change was profound. Fidel replaced the God we had believed in. He was a very significant leader for everyone, but in particular for us of the younger generation. We threw ourselves into the struggle to make the revolution. Life was very difficult after the sugar harvest of 1970 failed. We suffered a lot, but we still had that belief, that determination, that we had to fight for the revolution. We thought of Fidel as our God the saviour, and we all closed ranks, and we struggled, and we tried not to see his errors, his flaws. I did not return to the church for many, many years."

I first interviewed Olga (not her real name) twelve years ago, when, alongside a team of Cuban and British researchers, I began recording life histories of Cuban men and women living on the island. Olga and I last met several months ago, in Miami, where she now lives. Our team has collected the life histories of 125 Cubans from different generations, social positions and political views, of diverse racial, gender, sexual and religious identities. Many talked with us multiple times, recounting how their lives and attitudes have changed over the years.
Hugo Chávez, military officer turned left-wing revolutionary, was one of the most important Latin American leaders of the twenty-first century. In My First Life, Chávez narrates the story of his life in the years preceding his election as president in 1998. His interlocutor is Ignacio Ramonet, a former editor at Le Monde diplomatique who previously produced a similiar book with Fidel Castro. The post below is excerpted from Ramonet's introduction.

To celebrate the publication of My First Life, the book and many other titles on Latin America are currently on sale at a 40% discount.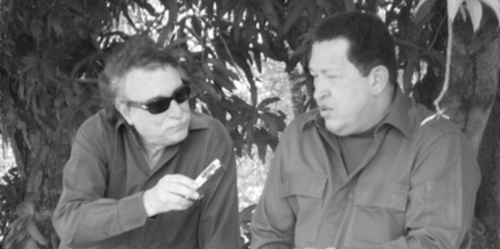 At the age of forty-five, Hugo Chávez became one of the youngest presidents in Venezuelan history.
His investiture was held on 2 February 1999. And less than two months later, on 25 April, he called as promised a referendum for a Constituent Assembly. He got 88 per cent of the votes. The Bolivarian Revolution was on the march. In July, members were elected to the Assembly. The Polo Patriótico, the president's coalition, swept the board again, with 121 of the 128 seats. The new Assembly began work on the Fifth Republic's Constitution, the text of which had to be ratified by a national referendum on 15 December 1999.
To celebrate the release of My First Life, the story of Hugo Chávez's early years told in his own words, we present a reading list of titles on Latin America. From a tour of Latin American architecture to a graphic biography of Che Guevara to writings from Toussaint L'Ouverture, the leader of the Haitian Revolution, to the definitive history of the drug cartels, we have plenty to help you brush up on Latin American history and contemporary politics as we head into the new school year!
Click here to activate the 40% off discount!

*** THE SALE IS NOW OVER - THANKS FOR ORDERING! ***

The sale will last until Monday, August 29th at midnight EST and includes free bundled ebooks where available and free shipping worldwide!