"Frustrated by the fact that most texts on women treated 'the man's world' as the given and then simply asked where and how women fitted in," Stephanie Coontz writes, "I decided to undertake a survey of American gender roles: that was the starting point of the present book" — The Social Origins of Private Life: A History of American Families 1600–1900, published by Verso in 1988.



Unidentified African American soldier in Union uniform with wife and two daughters, c. 1863-65. via Wikimedia Commons.

As the focus of her research shifted from "woman's private sphere" to the family as a larger arena in which the public and private intersect, Coontz became more attentive to the diversity of household arrangements across time and space. "Stimulated by the burgeoning research into family history," she writes, "I began to look at the family as a culture's way of coordinating personal reproduction with social reproduction — as the socially sanctioned place where male and female reproductive activities condition and are conditioned by the other activities into which human beings enter as they perpetuate a particular kind of society, or try to construct a new one." 
Continued from part I.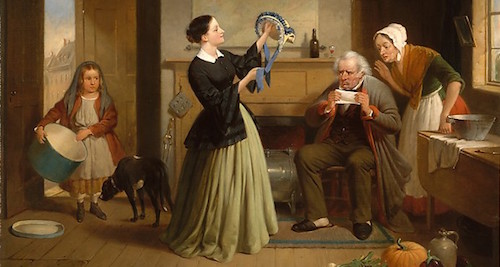 Detail from Francis William Edmonds' The New Bonnet (1858).

The Limits of Structural and Demographic Analysis

Although it is important to compare demographic trends and household structures and seek their economic correlates, such procedures yield only limited information about the history of families. Olga Linares points out: "Qualitative changes in the meaning of interpersonal obligations may be as important in distinguishing among household types as more easily measured changes in size and form." Indeed, as Barrington Moore Jr has commented, tabulating structural differences "necessarily involves ignoring all differences except the one being measured." Changes in social relations and patterns are not "reducible to any quantitative differences; they are incommensurable. Yet it is precisely such differences that matter most to human beings."47

Gender Strike, San Francisco, March 8 2017. via It's Going Down. 

Feminist politics and movement making has a history of compulsively
repeating, reinforcing, and reconstructing systematic forms of exclusion, as well as shallow calls for inclusion. Women of color feminisms, transnational feminism, transfeminism, and feminist disability studies have all, in different ways and through various methodologies, critiqued and reframed the ways in which the category "woman" is invoked and politically deployed in relation to race, class, sexuality, gender identity, dis/ability, mental health, capital, neo-colonial rule, and the nation-state form.1 These critiques contest the dominant interpretations of the category "woman" within feminist thought and political organization in order to conceive a feminist politics that is truly liberatory. The March 8 International Women's Strike was not only a strike against women's visible and invisible labor, but it was also an international call for the reinvigoration of a radical feminism for the 99% (referred to by some, and in the rest of this piece, as F99).