Detail from the cover of William Petersen's Japanese Americans: Oppression and Success (1971).

Let's start at the end.

In the final paragraph of his recently published commentary, "Why Do Democrats Feel Sorry for Hillary Clinton?," Andrew Sullivan writes, "Asian-Americans, like Jews, are indeed a problem for the 'social-justice' brigade. I mean, how on earth have both ethnic groups done so well in such a profoundly racist society?"

To some, it may be unclear how a piece criticizing Clinton supporters wound up discussing Asian Americans and the recent brutal attack on United Airlines passenger David Dao. But there is a logic to Sullivan's screed.

Phoenix, February 2017: A protestor ties himself to an ICE van in an effort to prevent the deportation of Guadalupe García de Rayos.

On February 17, the AP reported the existence of an 11-page Department of Homeland Security memo outlining the possible use of 100,000 National Guard troops in immigration raids. The story first met a denial from the White House, followed by the subsequent admission from ICE that the memo was circulated but will not be implemented. In its place, ICE released new policy guidelines foretelling an equally draconian future.

Darkness is coming. It has descended on immigrant communities before. We survived. We shall again.
Published as part of Verso's Haymarket Series in 1996, Alex Lichtenstein's Twice the Work of Free Labor: The Political Economy of Convict Labor in the New South was the first book-length history of the convict-lease and chain gang systems of penal servitude in the Southern United States. Focusing on Georgia in the years between Reconstruction and the Great Depression, Lichtenstein traces the interwoven development of the region's notoriously brutal carceral forms and it's industrial and commercial expansion. "The postbellum history of Georgia's penal system," Lichenstein writes, "offers a clear illustration of how convict labor helped forge the peculiar New South 'Bourbon' political alliance, by accommodating the labor needs of an emerging class of industrialists without eroding the racial domination essential to planters."

In the text below, the book's epilogue, Lichtenstein expands on his findings in a broader historical consideration of the relation between coerced labor and economic development.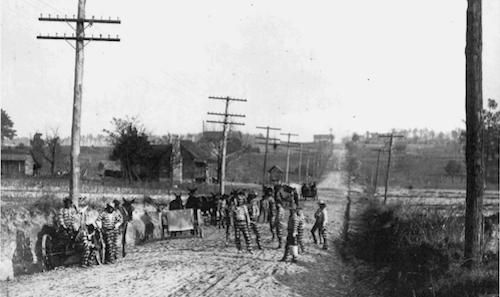 A Georgia road gang in Rockdale County in 1909, shortly after the state abolished convict leasing. (Vanishing Georgia Collection, Georgia Department of Archives and History).

"There is no document of civilization that is not at the same time a document of barbarism." –Walter Benjamin, "Theses on the Philosophy of History"1

Diverse forms of forced labor have been found in many societies, under many conditions. Slavery and penal labor both existed in the ancient world. Serfdom shaped much of the character of premodern European social relations, and persisted well into the nineteenth century in Eastern Europe and Russia. As European societies shook off the last vestiges of feudalism, forced labor was carried to the New World, in a vast arc encompassing both the highlands and plantations of the Americas. In colonial Africa as well, European domination brought with it forms of coercive labor new to a continent that had long known indigenous slavery; and labor relations in industrialized South Africa under apartheid were clearly shaped by colonial strategies of labor extraction up until yesterday. Finally, Stalin's Gulag, and the Nazi labor and extermination camps, stand as horrific examples of forced labor in the modern world.