For the philosopher Jacques Rancière, France's strange presidential election campaign is no surprise. He thinks that a French system that entrusts all power to professional politicians mechanically churns out candidates who claim to represent a "clean break." Éric Aeschimann spoke to Rancière for the 9–15 March 2017 edition of L'Obs. Translated by David Broder.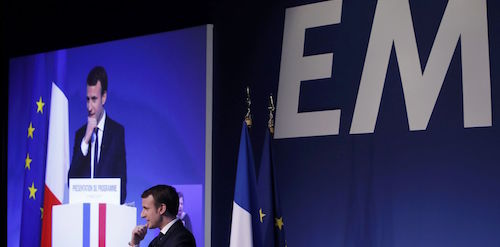 Emmanuel Macron at a March 2017 press conference. 

From François Hollande's decision not to stand, to François Fillon's legal woes, the current presidential campaign has been a succession of dramatic twists. And you, Jacques Rancière, are a unique observer of this spectacle. For years you have denounced the impasses of representative democracy, which you see as incapable of producing a genuine democracy. How would you analyse what is happening?

"Representative democracy" is a more than ambiguous term. It conveys the false idea of an already-constituted people that expresses itself by choosing its representatives. Yet the people is not a given that pre-exists the political process: rather, it is the result of this process. This or that political system creates this or that people, rather than the other way around. Besides, the representative system is founded on the idea that there is a class in society that represents the general interests of society. In the minds of the American founding fathers, that was the class of enlightened landowners. This system creates a people that identifies its legitimate representatives as coming from within this class, periodically reconfirming as much at the ballot box. The representative system gradually became an affair for professionals, who then reproduced themselves. But in so doing this system generated its own reverse, the mythical idea of a people not represented by these professionals and aspiring to provide itself with representatives who really do incarnate it. This is the piece of theatre — of constantly declining quality — that each election now reproduces.
Antonio Negri's commentary on French Socialist presidential candidate Benoît Hamon's proposal for a universal income first appeared in 
EuroNomade. Translated by David Broder.




There is something strange about taking interest in an electoral campaign again: it is a long time since this happened to me. When I saw Benoît Hamon on TV after he won the French Socialist primaries I felt — with a certain surprise — something of a breath of fresh air. Hamon won the Socialist primaries promising an unconditional citizen income, at a decent level. I will say right away: it is impossible that this proposal could determine a definitive break with this rotten system. Indeed, a series of interventions by friends and enemies alike implacably told us how alone he is on this score. They said, one after the other: Hamon talks about robots and automation; he says we need only go to the supermarket in order to realise the extent and depth of the rarefaction of work; and who denies it?; but that this is something quite different from asserting the need to set as the objective for labour governance not full employment, but citizen income... But where does he want to take us? What he is saying is just tall tales, unrealisable utopias, naïve fables.
From the 27 January edition of Daniel Mermet's Là-bas si j'y suis. Translated by David Broder. Based on French transcript. 




Frédéric Lordon: Well, the upcoming elections… There is something weird. For me, the prospect of this election awakens very mixed feelings. Very contradictory feelings.

I should say that as the years have come and gone — and it is a while since I stopped voting — I have truly come to consider the Fifth Republic's institutions' electoral pantomime as something empty, a dead end.

And from a certain point of view, what happened with Nuit Debout was the expression of this same frame of mind. Playing the game within these institutions is either a game lost in advance, or an entirely senseless one. And the only political question…