"We have concluded that the UK chose to join the invasion of Iraq before the peaceful options for disarmament had been exhausted. Military action at that time was not a last resort." — John Chilcot.

The long-awaited Chilcot Report, spanning almost a decade of UK government policy decisions between 2001 and 2009, was released today. The report finds that there was no "imminent threat" from Saddam Hussein, and that Tony Blair had gone to war before "peaceful options for disarmament" had been exhausted — the UK's invasion of Iraq in 2003 was not a "last resort".
Verso presents a reading list of books that contextualize the disaster resulting from the "War on Terror" and the refugee crisis rooted in its violence. After the invasion by coalition forces in 2003, Iraq began fracturing along sectarian lines, unleashing years of violence and displacement. With the outbreak of war in Syria in 2011, ISIS exploited the chaos and societal tensions of the region to sweep to power on a brutal campaign that has displaced millions of civilians. The Iraq War, too, led to increased risk of terrorism in Europe as well as within the Middle East.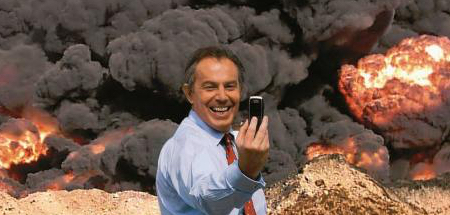 So ISIS has claimed the attacks as a response to France bombing the 'caliphate' in the Middle East. That Hollande/Valls are warmongers is beyond dispute . Ironically they were preparing to topple the Assad regime (till Washington insisted on a delay) which would have made them ISIS allies in the region. In fact the bulk of the opposition in Syria regard Assad as the primary contradiction and were also hoping the West would deliver another regime change. Had the
y done so a new civil war would have erupted between rival jihadi groups and who knows which of them the US/EU would have supported. 

ISIS has hit the French capital and killed over a hundred citizens with double that number injured. I know the West does the same and, in fact, kills tens of thousands, but this clash of fundamentalisms leads nowhere. The West is NOT morally superior to the jihadis. Why is a public execution with a sword worse than an indiscriminate drone attack? Neither can nor should be supported.