Translated by Neliza Chicangana, Sergio Rueda and Manuel Vargas. Originally posted here.

Por Judith Butler, en París el 14 de noviembre del 2015
Estoy en París y pasé cerca de la ubicación de la matanza sobre la rue Beaumarchais en la tarde del viernes. Cené a diez minutos de otros de los objetivos. Todos los que conozco están a salvo, pero muchas personas que no conozco están muertas o traumatizadas o de luto. Es impactante y terrible. Hoy las calles estaban pobladas por la tarde, pero vacías en la noche. La mañana se encontraba en completo silencio.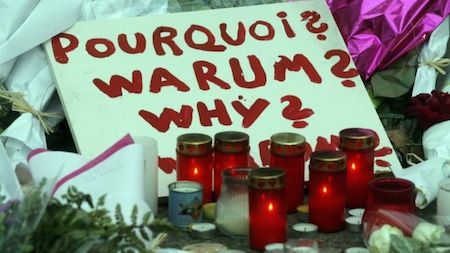 "One way of posing the question of who "we" are in these times of war is by asking whose lives are considered valuable, whose lives are mourned, and whose lives are considered ungrievable. We might think of war as dividing populations into those who are grievable and those who are not. An ungrievable life is one that cannot be mourned because it has never lived, that is, it has never counted as a life at all. We can see the division of the globe into grievable and ungrievable lives from the perspective of those who wage war in order to defend the lives of certain communities, and to defend them against the lives of others—even if it means taking those latter lives."—Judith Butler, Frames of War: When Is Life Grievable?