Former L'Obs journalist Aude Lancelin describes how how the En Marche! candidate was utterly fabricated by media in capital's hands. First published on Agoravox, 21 April, prior to the first round vote.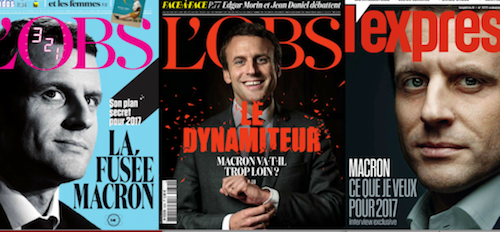 It was late last year, and I had just handed in the manuscript for Le Monde libre (on my eviction from L'Obs). My gaze wandered to the 24 hour news channel BFM TV images, amidst what remained of a Paris heatwave that had just recently finished. That was when I suddenly understood that 2017 would be a terrible year, and that the coming presidential election would not resemble anything this country had ever seen before. The country's leading rolling news channel, the flagship of Patrick Drahi's Altice-SFR group,was certainly not cutting any corners that 30 August 2016. Everything was laid on to cover a quite considerable event, just imagine it: the resignation from the Economics Ministry of a young gun of Hollandism, who even two years previously had still been almost unknown to the public. A scoop of planetary importance, we could see, which certainly merited the general mobilisation of all the teams working for the channel owned by this French telecoms billionaire.


The 2016 Presidential campaign has been a very significant one for Latinxs, often referred to as the "sleeping giant" of the electorate. While Republican candidate Donald Trump astonished most media observers with his set of shifting, unorthodox political positions, it's been his crudely racist and sexist discourse that have become the campaign's central focus. Yet his relentless attacks demonizing immigrants from Mexico and Central America and conflating them with the national security issues represented by border enforcement--represented by his dubious wall-building dream--have put our interests in a narrowly defined box, obscuring discussion of other issues critical for Latinxs. 
François Maspero was a French journalist and author who passed away earlier this year. Verso presents this translated tribute to the founder of Éditions Maspero, the publishing house which has served as an inspiration for radical left publishing since the fifties.


A pair of texts by Mohamad Yefsah and Aymeric Monville
François Maspero died on 13 April 2015 at the age of 83. Here we present madaniya.info's effort to pay tribute to this extraordinary individual and his eminent contribution to the struggle for the liberation of the Third World.