Feyzi Ismail's interview with Stathis Kouvelakis — a member of the Greek Popular Unity party and a supporter of La France Insoumise — about Emmanuel Macron's victory in the French presidential election and the prospects for the radical left was first published at 
Counterfire
.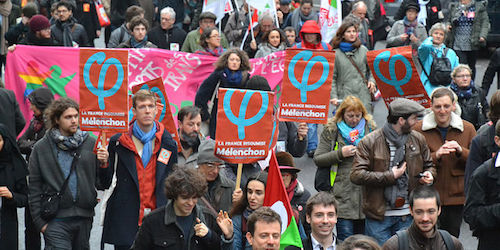 France Insoumise International Women's Day demonstration, March 2017. via Flickr.

What is your assessment of Macron's victory over Le Pen and how did we get to this?
We shouldn't underestimate the danger of Le Pen's result of 34.5%, even if she wasn't elected. This is a solid performance that makes her appear as a credible alternative for power, which means the slogan we have been hearing that says "Macron in 2017 equals Le Pen in 2022" has the potential to become true. This is one essential reason why against all odds the left should have been supporting a tactical vote for Macron for the second round. Abstention under these conditions was not an option.
Sociologist Razmig Keucheyan, a professor at the Université Paris IV (Sorbonne), reflects on the fallout of the French presidential election. First published in Spanish at Nueva Sociedad, and then revised in French after the first round results for Contretemps. Translated from the French by David Broder. 


For the first time under the French Fifth Republic, neither of the two main parties (the Socialists and the Republicans) managed to reach the second round of the presidential election. What does this change in French politics represent, also taking into account the particularities of Marine Le Pen and the dizzying rise of Emmanuel Macron?

Marine Le Pen and Emmanuel Macron are two different cases. It had long been predicted that Marine Le Pen would be present in the second round. That did not surprise anyone: all the surveys said that this would happen. People had so much taken this for given that there were few protests on the evening of the vote.
Edwy Plenel, author of For the Muslims, calls for a vote against Le Pen and for Macron on May 7, not in order to endorse his programme, but for the sake of defending democracy as a space of free contestation, including in the face of the En Marche! candidate's own policies. First published in Mediapart, which Plenel founded.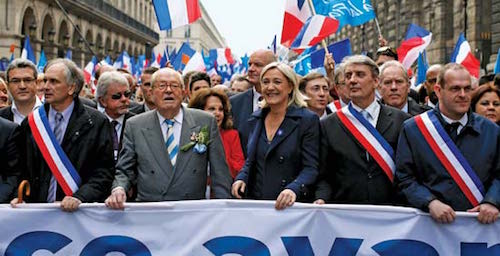 Marine and Jean-Marie Le Pen lead an FN march, 2014.

To vote against Le Pen by voting for Macron is not to vote for this latter's programme. It is to vote to defend democracy as a conflictual space, traversed by divergent interests and competing causes. A space where its contradictions, its pluralism, its diversity, its claims and its hopes can freely express themselves — including faced with the policies of a Macron presidency.