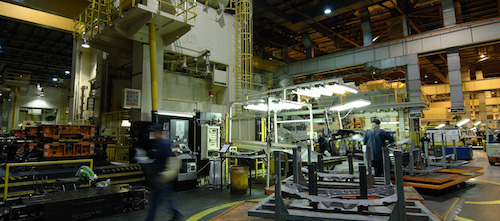 Nissan plant, Smyrna, TN.

The 2016 election was primarily a referendum on US trade and immigration policies. Trump's case, insofar as one could be found amid all his bloviating, was something like the following: the US sent jobs abroad at the same time as it let workers in from Mexico, and that has been bad for most Americans. It's worth remembering that Trump began his campaign by attacking financial elites, who, he said, had paid off the politicians to keep this con act going. Since Trump is so rich, he won't have to take their bribes. He'll renegotiate.

Well, it doesn't take a degree in political science to predict that Trump will fail to "make America great again." In all likelihood, the real winners here will be the traditional constituencies of the Republican Party: big business and social conservatives. Everyone else will lose. Meanwhile, Trump will use the presidency to hound his enemies and expand his personal wealth. And that's the best case scenario.
After the election of Donald Trump as American President, Verso republishes a classic piece of analysis from Robert and Johanna Brenner produced in the wake of Ronald Reagan's presidential election victory in 1981. It was originally published in socialist magazine, Against the Current.