Emerging Futures: A Bookshelf


In this moment of wide-scale rejection of establishment politics and the global rise of a right wing populist movement, we need utopian and radical visions of society more than ever.

This is not escapist wishful thinking but a reimagining of society as one that values people over profits, that rules democratically and collectively, that provides for the needs of all citizens. In this calamitous time, utopian thinking can inform our social movements and our strategies for building a better future.


Four Futures: Life After Capitalism
by Peter Frase
Peter Frase argues that increasing automation and a growing scarcity of resources, thanks to climate change, will bring it all tumbling down. Frase imagines how this post-capitalist world might look, deploying the tools of both social science and speculative fiction to explore what communism, rentism, socialism and exterminism might actually entail.
This incisive little book offers the vital reminder that nothing is set in stone—or silicon—and that in order to fight for a better world we first need to be able to imagine it." – Astra Taylor, author of The People's Platform




The Dialectic of Sex: The Case for Feminist Revolution by Shulamith Firestone

An international bestseller, originally published in 1970, when Shulamith Firestone was just twenty-five years old, The Dialectic of Sex was the first book of the women's liberation movement to put forth a feminist theory of politics.

She presents feminism as the key radical ideology, the missing link between Marx and Freud, uniting their visions of the political and the personal. The Dialectic of Sex remains remarkably relevant today—a testament to Firestone's startlingly prescient vision. 


How Will Capitalism End? Essays on a Failing System
by Wolfgang Streeck
The acclaimed analyst of contemporary politics and economics argues that capitalism is now in a critical condition. Growth is giving way to secular stagnation; inequality is leading to instability; and confidence in the capitalist money economy has all but evaporated.
"At the heart our era's deepening crisis there lies a touching faith that capitalism, free markets and democracy go hand in hand. Wolfgang Streeck's new book deconstructs this myth, exposing the deeply illiberal, irrational, anti-humanist tendencies of contemporary capitalism." – Yanis Varoufakis


Inventing the Future: Postcapitalism and a World Without Work
by Nick Srnicek and Alex Williams 
Inventing the Future is a bold new manifesto for life after capitalism. Against the confused understanding of our high-tech world by both the right and the left, this book claims that the emancipatory and future-oriented possibilities of our society can be reclaimed. Instead of running from a complex future, this book demands a postcapitalist economy capable of advancing standards, liberating humanity from work and developing technologies that expand our freedoms.
"A powerful book: it not only shows us how the postcapitalist world of rapidly improving technology could make us free, but it also shows us how we can organize to get there. This is a must-read." – Paul Mason, author of Postcapitalism: A Guide to Our Future




Utopia
by Thomas More
Essays by Ursula K. Le Guin
Introduction by China Miéville
Five hundred years since its first publication, Thomas More's Utopia remains astonishingly radical and provocative. In this quincentenary edition, More's text is introduced by multi-award-winning author China Miéville and accompanied by four essays from Ursula K. Le Guin, today's most distinguished utopian writer and thinker.
"We can't do without this book. We are all and have always been Thomas More's children." – China Miéville




Alien Zone: Cultural Theory and Contemporary Science Fiction Cinema
Edited by Annette Kuhn 
The essays in this book—some newly written, others gathered from scattered sources—look at the ways in which contemporary science fiction films draw on, rework, and transform established themes and conventions of the genre: the mise-en-scene of future worlds; the myth of masculine mastery of nature; power and authority and their relation to technology.

Alien Zone II: The Spaces of Science Fiction Cinema
Edited by Annette Kuhn

Alien Zone II presents some of the most exciting new voices in the current debates. A companion volume to Alien Zone, it continues to pursue the critical and theoretical issues opened up in the earlier book and energetically explores fresh territory with an eye which is both reflective and interventionist: visionary cities, psycho-cybernetics, internet fandom, the convergence of science fiction literature and science action film, the body and its limits are just some of the subjects brought under its gaze.


Last Futures: Nature, Technology, and the End of Architecture 
by Douglas Murphy

"Murphy tells the story of this counter-revolution pithily and well. . . A fresh and haunting way of explaining what happened to the radical 60s and 70s as a whole, in Murphy's view quite possibly the last chance the west had of creating a decent and environmentally sustainable society." – Andy Beckett, Guardian
The Religion of the Future
by Roberto Mangabeira Unger
How can we organize a society that gives us a better chance to be fully alive? How can we reinvent religion so that it liberates us instead of consoling us? These questions stand at the center of Roberto Mangabeira Unger's The Religion of the Future: an argument for both spiritual and political revolution. It proposes the content of a religion that can survive without faith in a transcendent God or in life after death.
"Excels by depth as well as by a wide-reaching erudition … A powerful work." – Louis Dupré, Journal of Religion


Utopia or Bust: A Guide to the Present Crisis
by Benjamin Kunkel 
After the financial crash and the Great Recession, the media rediscovered Karl Marx, socialist theory, and the very idea that capitalism can be questioned.
"For anyone who cares about historical necessity, the crisis of capitalism, and our fate." – Rachel Kushner 
"Playful and unfailingly lucid...the book is one of the most enjoyable pieces of Marxist criticism in many years." – The Nation
An American Utopia: Dual Power and the Universal Army
by Fredric Jameson. Edited by Slavoj Žižez 
Fredric Jameson's path breaking essay "An American Utopia" radically questions standard leftist notions of what constitutes an emancipated society. Includes responses from philosophers and political and cultural analysts, as well as an epilogue from Jameson himself.

24/7: Late Capitalism and the Ends of Sleep
by Jonathan Crary
Explores some of the ruinous consequences of the expanding non-stop processes of twenty-first-century capitalism. The marketplace now operates through every hour of the clock, pushing us into constant activity and eroding forms of community and political expression, damaging the fabric of everyday life.

I'm With the Bears: Short Stories from a Damaged Planet
Edited by Mark Martin

The size and severity of the global climate crisis is such that even the most committed environmentalists can drift into a state of denial. The award-winning writers collected here have made it their task to shake off this nagging disbelief, bringing the incomprehensible within our grasp and shaping an emotional response to mankind's unwitting creation of a tough new planet.
With contributions by Margaret Atwood, Paolo Bacigalupi, T.C. Boyle, Toby Litt, Lydia Millet, David Mitchell, Nathaniel Rich, Kim Stanley Robinson, Helen Simpson, and Wu Ming.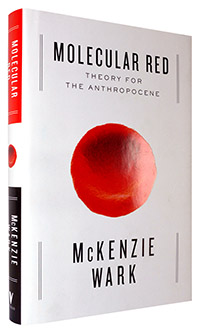 Molecular Red: Theory for the Anthropocene
by McKenzie Wark
McKenzie Wark creates philosophical tools for the Anthropocene, our new planetary epoch, in which human and natural forces are so entwined that the future of one determines that of the other. Wark explores the implications of Anthropocene through the story of two empires, the Soviet and then the American.
Archaeologies of the Future: The Desire Called Utopia and Other Science Fictions
by Fredric Jameson
The relationship between utopia and science fiction is explored through the representations of otherness and a study of the works of Philip K. Dick, Ursula LeGuin, William Gibson, Brian Aldiss, Kim Stanley Robinson and more.
"Certainly among the most stunning studies of science fiction ever produced... a vast treasure trove of a book, crammed with brilliant apercus…" – Terry Eagleton, London Review of Books


Extrastatecraft: The Power of Infrastructure Space
by Keller Easterling
Keller Easterling reveals the nexus of emerging governmental and corporate forces buried within the concrete and fiber-optics of our modern habitat.
"An extraordinary guidebook to the politics of infrastructure in the contemporary world." —Stephen Graham, author of Cities Under Siege




Fortunes of Feminism: From State-Managed Capitalism to Neoliberal Crisis
by Nancy Fraser
Nancy Fraser's major new book traces the feminist movement's evolution since the 1970s and anticipates a new—radical and egalitarian—phase of feminist thought and action.
"Nancy Fraser is one of the most creative social philosophers and critical theorists of her generation." – Cornel West

Alien Zone: Cultural Theory and Contemporary Science Fiction Cinema
Edited by Annette Kuhn

The essays in this book—some newly written, others gathered from scattered sources—look at the ways in which contemporary science fiction films draw on, rework, and transform established themes and conventions of the genre: the mise-en-scene of future worlds; the myth of masculine mastery of nature; power and authority and their relation to technology.


The Future of the Image
by Jacques Rancière. Translated by Gregory Elliott
Rancière develops a fascinating new concept of the image in contemporary art, showing how art and politics have always been intrinsically intertwined. Covering a range of art movements, filmmakers such as Godard and Bresson, and thinkers such as Foucault, Deleuze, Adorno, Barthes, Lyotard and Greenberg.
 "Ranciere's writings offer one of the few conceptualizations of how we are to continue to resist." – Slavoj Zizek
Envisioning Real Utopias
by Erik Olin Wright
Rising inequality of income and power, along with recent convulsions in the finance sector, have made the search for alternatives to unbridled capitalism more urgent than ever. Erik Olin Wright's major new work is a comprehensive assault on the quietism of contemporary social theory.
"A benchmark contribution to necessary radical thinking." – Göran Therborn


Alternatives to Capitalism: Proposals for a Democratic Economy
by Robin Hahnel and Erik Olin Wright. Introduction by Ed Lewis

"Many recognize that the various forms of 'really existing capitalism' have deficiencies that range from harmful to lethal. Few have carefully thought through 'really existing alternatives' that offer hope for escape from problems and dilemmas that are profound, and imminent. Robin Hahnel and Erik Olin Wright are two of the most thoughtful and perceptive analysts to have pursued this critically important course. Their reasoned and informed interaction is a major contribution towards clarifying the paths forward."
– Noam Chomsky


NASA/TREK: Popular Science and Sex in America
by Constance Penley

This wry and highly readable investigation of the role of space travel in popular imagination looks at the way NASA has openly borrowed from the TV show Star Trek to reinforce its public standing. It also celebrates the work of a group of the show's fans who rewrite its storylines in porno-romance fanzines. Constance Penley advocates that scientific experimentation be accompanied by social and sexual experimentation, and devoted to exploring inner as well as outer space.
Related Books